DYNAMO AFTER DARK is a series of special events where we invite you to have a talk, immerse yourself and reflect on a selected theme. Each event is based on performances that play at DYNAMO, and they are a dialogue with the artists and special guests.
Upcoming:
On screen time, phone addiction and contemporary circus
3 March 2023
Artists: Villads Bugge Bang and Out of Balanz
Topic: On March 3rd, we will focus on screen use and mobile addiction, based on the brand new performance GOING NOWHERE by Out of Balanz and DYNAMO. Here we talk about how we use our smartphones, what scenarios this entails and how admiration and concern at the introduction of technology into the world is conveyed through science and contemporary circus.
Past events:

Signe in the spotlight: live coaching a circus artist on stage
1 december 2022
Artist: Signe Løve Anderskov
Topic: Join us when DYNAMO AFTER DARK embarks on an experiment: circus artist Signe Løve Anderskov will put into words some of the physical and mental challenges associated with her work, and receive live coaching – on stage, in front of the audience! – by physiotherapist, teacher and coach specializing in dancers and elite athletes, Mira Lightwood, owner of Dance in Balance. The case is based on Signe's practice and the performance THE BALANCE, a whimsical balance laboratory where the audience feels the handstand artist's concentration and immersion, in search of the magical balance point. How does she prepare to play a performance, what physical and mental barriers does she have to overcome, and how does she best reach her goal? Get a unique insight into a coaching process where we are allowed to feel the artist's doubts and vulnerability, and thus also strengthen , as well as the coach's approach to an artist and new circus performer. Read more on our Facebook page.
The Aging Body
17 November 2022
Artist: Circus by Me, Rebecka Nord
In dialogue with: Sarah Pini: Assistant Professor in Dance and Performance at the University of Southern Denmark (SDU) and Anita Wohlmann: Associate Professor in Contemporary Anglophone Literature at SDU
Topic: DYNAMO AFTER DARK focuses on the aging, acrobatic body. What actually happens when the body ages; What is myth and what is reality? What prejudice about the body's ability does the female body face in particular, and how has the female body historically stood as a target for opinions created on an uninformed basis? The talk is based on the performance Det får bära eller brista by Circus by me.
In Conversation with Kathrin Wagner
18 August 2022
Artist: Kathrin Wagner – performance I Was Told.
In conversation with: TBC
Topic: I Was Told. is a 50-minute, interdisciplinary piece involving ring juggling and slam poetry, which deals with the influence of language, in the literal and metaphorical sense, on the perception of oneself and others. The artist Kathrin Wagner resolves the emerging identity conflict in an authentic, honest, humorous, and empowering manner. Presented in collaboration with Spoken Word Festival and takes place in Vollsmose Kulturhus.
Humour on stage
29 April 2022
Artists: Kallo Collective – performance PENDULUM.
In conversation with: Sune Roholt Mortensen (dramaturg), Michael Eigtved (Lecturer, Copenhagen University), Sisse Gram de Fries (comedian, podcaster, actor).
Topic: On April 29th, we focus on humor on stage. Based on the performance PENDULUM by Kallo Collective, we take a closer look at genres, expressions and movements where humor is expressed. What do we really think is fun and why? Read more: https://fb.me/e/1yVw1yb8q
Real men of the North
4 marts 2022
Artists: The Nordic Council – performance "Three Men from the North"
In conversation with: Anders Ravn (Father of three and nurse); Erik Andersson (father).
Topic: Who is the Nordic man today, how many different shades does he come in, and how do we encounter him through performing arts, in the media representations and in more domestic settings?
---
Live music in performing arts
21 January 2022
Artists: Uppercut Danseteater – performance 'Samba: Plejer er død' (Stephanie Thomasen – choreographer; Alexander Skjold – percussionist)
In conversation with: Casper Schärfe – booker and leader of Momentum Musik
Topic: What happens when the musician becomes part of the ensemble, when the music becomes visible as an element on stage and how is the musical experience different in performing arts than in a concert format? The event is presented in collaboration with Momentum Music.
---
About getting stuck
12 November 2021
Artists: Rapid Eye – performance 'Cul de Sac'
In conversation with: Jens Bertelsen – Business editor at Avisen Danmark
Topic: A talk about breakdowns, stalemates and disasters: about getting stuck, rethinking world orders and options for action, destroying something to create something new. Presented in collaboration with Fyens Stiftstidende.
---
Breasts – in public and on stage
15 October 2021
Artists: Mighty Performing Arts Collective (Kajsa Englund and Karin Svensson) – performance 'Breast in Peace'
In conversation with: Lene Kryger (theater editor and culture journalist), Liv Navntoft Henningsen (Cand. Jur.), Asja Karkov (activist)
Topic: Breasts – or the female body – adorn well over half of all mirror images and roughly the same number of boxes: From croptop gate, to neighbor quarrels over nude bathing on the balcony, to local fitness centers banning training in sports bras. Why do we talk so much about breasts? And who really decides over them? Presented in collaboration with Fyens Stiftstidende.
---
The juggling brain
29 may 2021
Artists: Kathrin Wagner, Emma Hørnell, Gracie May Marshall – the Antiism Project
In conversation with: Åsa Fex Svenningsen – Neuro researcher, lecturer at the Institut for Molekylær Medicin at SDU
Topic: What happens to your brain when you (try to) juggle? Åsa has been in contact with our Anti-ism artists in residency, and they have talked about juggling, balancing, handstand and the brain functions that both affect and are affected by these art forms. Presented in collaboration with Havne Kulturfestival.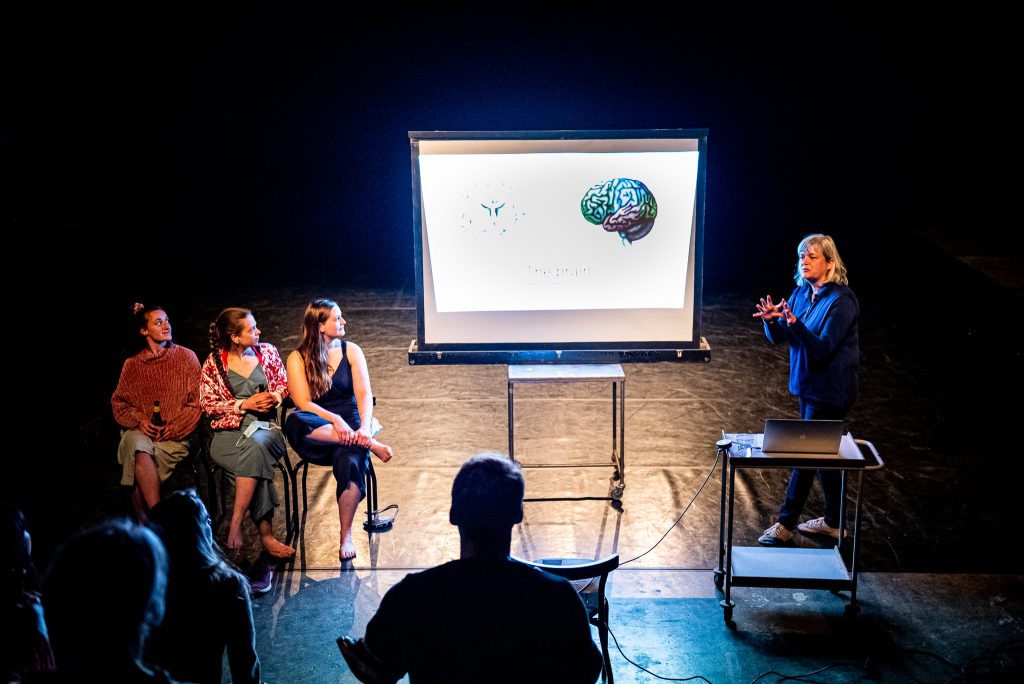 ---
A physchologist meets a magician
19 November 2020
Artist: David Tholander – performance 'Pigeon Superstition'
In conversation with: Frederikke Tholander – psychologist
Topic: The presentation makes us wiser on how B.F. Skinner's legacy is expressed in behavioral design in 2020, and how behavioral design can affect the free will of all of us.