'Waiting for the sea Eagle' is Knights of the Invisible's latest work which will premiere late 2022 in France. Their 2nd residency at DYNAMO aims to develop this artistic creation towards completion.
Together, Iona and Joseph build visionary worlds that defy description and have to be experienced live. The combined 'force major' imagines a world bigger than both of them. Their raw vision is expressed through dance, live music, soundscapes, vocals, performance art, movement language and visual art. The music is composed in layers. A magnetic soundscape echoing and colliding in the atmosphere uniting Joseph and Iona. Connecting their souls, the surrounding environment and dreamworlds.
Their open technique exposes them to transformation and chance in time and space.
Iona and Joseph's methods balance on the borderlines. The edge of change and metamorphosis where different energies and emotion accumulate to transcend daily life into surrealist territory.
---
'Waiting for the sea eagle' is an island, a dream, a history, a disturbance and a longing.
What becomes of a mind left wandering in isolation and thought?
It grows intensely inward in layered discussions, question and reasoning uninterrupted.
The contradictory extremes are tested. Sensations are pulled from pure life forces and choices provoking change and released. A new way. An opening.
Thoughts and desires become action and intent or lost to the wind.
Life, death, and the ghosts of other atmospheres and forces unknown, testing their paths.
In all, it is the dance of being human with all is emotional charge and vision to truly look and feel 'the Way'.
It is a song of survival and hope and challenge. Alive with all the senses.
We wait for the birds to return, to sing. They know the order.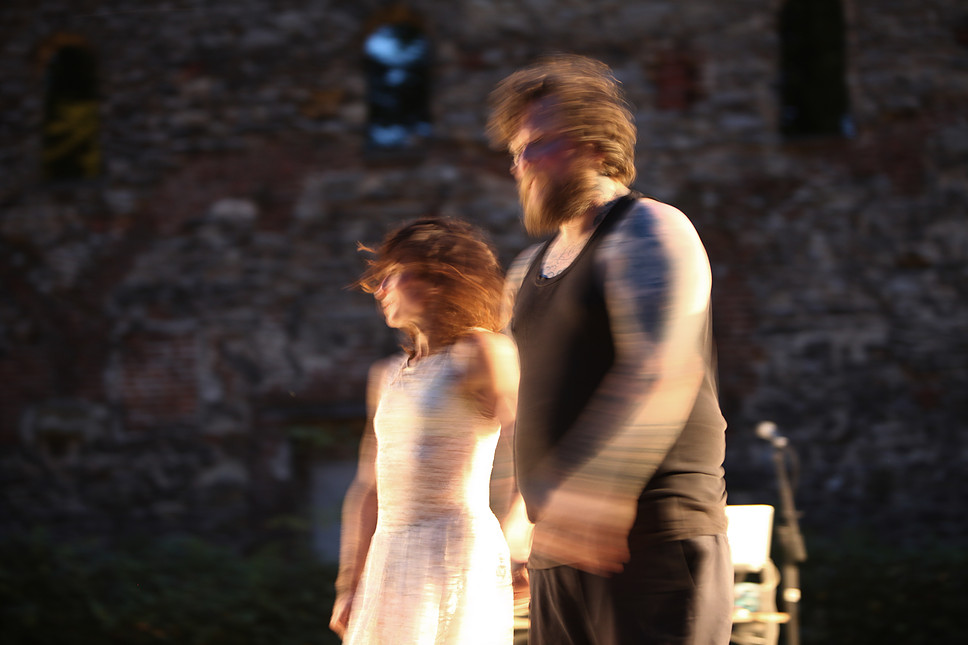 About the company
Knights of the Invisible is a Scottish dance company established in 2009 by Choreographer/Dancer Iona Kewney and Composer/musician Joseph Quimby.
The Residency is supported by Odense Kommune and Statens Kunstfond.