DYNAMO Magazine is part of our contribution to the establishing of circus in Denmark as a solid art form, and an exploration of the complex world that unfolds behind-the-scenes and which is rarely seen, despite being a crucial element of creation. All three issues are designed by Mads Find, with original collage art by DYNAMO Director Gry Lambertsen, and project coordinated by Elena Stanciu. With issue 02 we started a series of custom visual art commissioned from Danish artists.
Overview of magazine issues
Issue 3: Speaking of Circus (2022 68p) addresses the questions: "How do we speak of circus?" and "How do we use circus to speak of the world?" For this issue, we invited contributors whose work within contemporary circus touches on aspects of language or meaning making, at the crossroads with embodied forms of expression.
Contributions by: Anne Lissberg (ISCENE), Kathrin Wagner, Trine Wisbech, Lars Lindegaard Gregersen (GLiMT), Betina Rex, and more. Custom cover photo by Kim-Yen Nguyen. Cover artist: Signild Elisabeth. Guest editors: ISCENE
Issue 02: Spaces of Circus (2021, 52p) was intended as an exploration of the complex notion of "space" in the context of circus. With the editorial leading question of "What does space mean for circus? What can circus mean for space?" we tried to illuminate some interesting aspects of contemporary circus production, reception, integration in contexts, and aesthetics. Contributions byDavid Tholander, Esther Wrobel, Signe Løve Anderskov, John-Paul Zaccarini and more. Custom art linoprint by Mie Rosenkilde. Cover photo Einar Kling Odencrants. Artist on cover: Khazu in New York.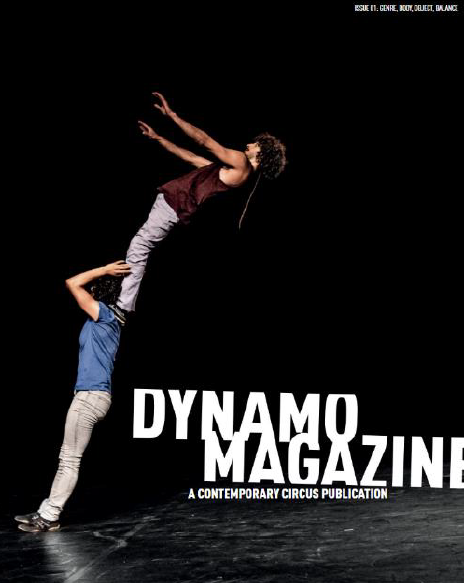 Issue 01: Genre, Body, Object, Balance (2020 24p) This issue aims to take the pulse of where in its evolution circus is today (anno 2020, particularly in Denmark), through articles, essays, poems, and interviews selected to offer a glimpse into the abundance of creativity and diversity of expression; the range and depth of talent – an immaterial backstage of circus, occupied by thoughts, emotions, memories, and visions. Contributons by: Kitt Johnson, Michael Eigtved, Tom Brand, and more. Cover photo by Cosmin Cirstea. Artists on cover: Amir & Hemda.
Order form:
The magazine is made possible with support from the Danish Arts Foundation, Wisti Foundation, and Odense Municipality. This is a not-for-profit project; all proceeds from this sale will go towards producing a new issue of the magazine.