DYNAMO Circus Seminars is a yearly event – a series of talks, debates, panels, workshops, work in progress and reflections taking place in Odense, Denmark.
The 2023 edition of the Seminars is now open for registration: visit the festival website to sign up!
We aim to facilitate a platform for organizers, producers, performers and creators to share knowledge and best practices across the region. During the Seminars, we seek to uncover experiences and knowledge of our peers in the circus community, with the intention of sharing best practices and reflecting on models and possibilities for growth in the field. We take a starting point in current realities and challenges in the field, with a focus on imagining and designing a more sustainable future for contemporary circus, in the Nordic Region and beyond.
Coming in June 2023
The 2023 edition of the Circus Seminars will take place between 13th-15th June, ahead of the DYNAMO Circus Festival. The main themes of the Seminars are: Articulation, Innovation, Sustainability.
Articulation: Questions of framing artistic expression within circus. How do we phrase the physical? How do we write and speak of circus? What is a circus language; how do we engage with conceptual loans from other art forms, eg. theatre, dance? What is circus criticism and where are the circus critics? Non-verbal forms of expression, such as physical expression, storytelling in embodied manners; physical storytelling is interrogated as a medium to bridge understanding and empathy across cultural or language differences.
Innovation: We consider different expectations (from education or funding structures) to innovate and how they impact the process of creation and collaboration, in a Nordic regional context. How do we share innovative ideas across the field; do we need new platforms, structures, channels? What does 'interdisciplinarity' mean in circus?
Sustainability: Aspects of touring, mobility, the need to travel fast and reach many places versus environmental responsibility. How do we maintain a high mobility expectation, with goals of sustainability, while cultivating a diversity of the field? Diversity as a medium for artistic sustainability: who does the stage belong to? What voices and bodies do we encounter in circus? What other voices and bodies should we encounter?
Find the 2023 programme and registration form on the festival website here.
Each year, a new focus is set for the Seminars – a set of themes and topics to represent a starting point for discussions, debate, and sharing.
If you have an idea of a burning topic you think we should include in the Seminars, do not hesitate to write to us at info@dynamoworkspace.dk
Previous editions
DYNAMO Circus Seminars 2021
In 2021, the Seminars addressed questions of mobility, a feedback culture for circus, and the concept of circus as a 'hardcore' culture. With practical workshops, talks, and panel debates, we covered topics such as: how to give feedback that is beneficial to artists (workshop by Declan Mee from Katapult Berlin)? How to ensure mobility and accessibility to resources for artists across Europe (with a presentation of the project Circus Link)? How to navigate the turns and shifts in an artist's life (in a session titled 'Circus Hacks' led by speakers Signe Løve Anderskov and Sunniva Byvard).
The two days of talks were followed by a physical workshop led by company Kaaos Kaamos, where participants explored the concept of 'trust' through corporeal modalities within contemporary circus.
DYNAMO collaborated with Waves Festival and C!CAF to present a full day dedicated to contemporary circus in Denmark, during Waves Xtra. The meeting facilitate talks and debates on the status of contemporary circus in Denmark and possibilities for development. A review of the event by the publication iScene is available here (in Danish).
You can read more about the programme and speakers here.
---
DYNAMO Professionals' Days 2019
The 2019 Professionals' Day was the first in this series. Organised in collaboration with Nordic Women in Circus Network and the Danish Platform for Development in Stage Arts, the two-day event was a mix of talks and debates, sharing and work in progress showings. The addressed themes were: the circus body as a medium in creativity; sustainable fundraising strategies; safety and recovery in circus.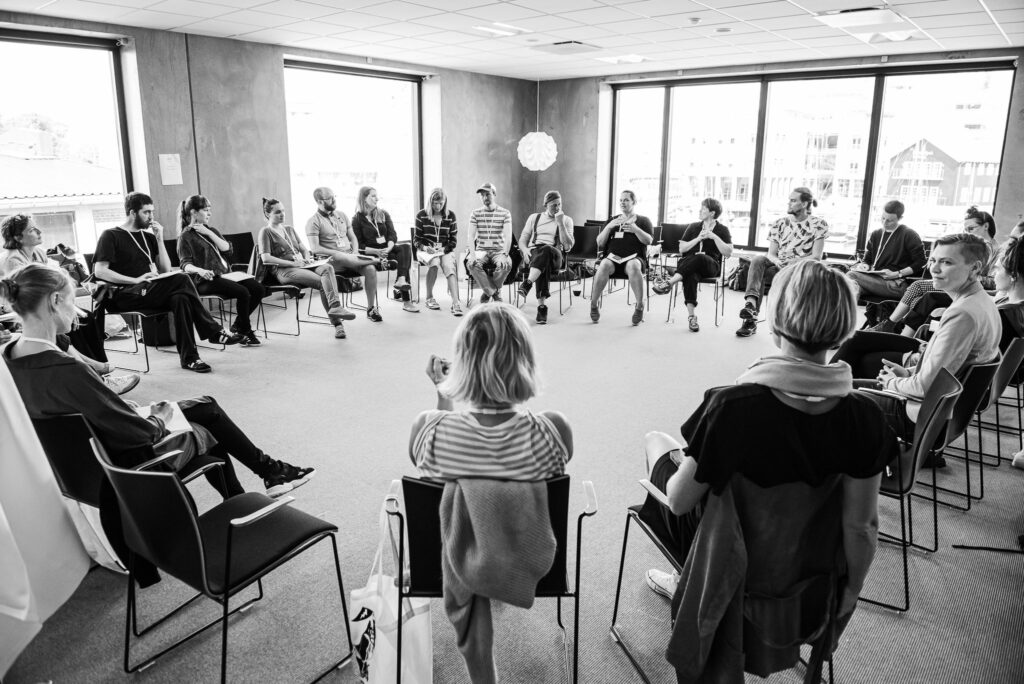 This project is supported by Nordic Culture Point – Culture and Art Programme and the Wisti Foundation.